in late june, we traveled out to ohio for mike's family reunion. the event was held in a lush green park with a covered picnic table area, and on the day of, it was warm and humid with a nice breeze and a chance of some showers to liven things up. as we put down tablecloths to mark our picnic bench territory and set up a net for some badminton matches, family began to arrive with homemade goodies of all sorts. as a vegetarian, these events can be quite interesting, and i usually make mike go first in the buffet line to taste the homemade concoctions and determine if they are made with meat or if they are safe for my consumption. (luckily, my mother in law – thanks, barb! – always ensures that there are some delicious veggie items for us at ohio events, but i do love to sample the local cuisine as well.)
at the dessert table, though, there was no need for mike to taste test for me, and i promptly loaded a plate with more baked goods than my stomach should (or would) contain. when i first tasted this cake, my taste buds were delighted, and i mused out loud "what's in this?? coconut? banana? pineapple?" and immediately went back for another slice. many badminton, bocce ball, volleyball, horseshoe/ring toss, and guessing how-many-items-fit-into-a-container games later, we were forced back under the covered picnic area by an afternoon rain storm. the baker of this cake was telling someone else about it, referring to the delicacy as a hawaiian wedding cake. i shared my delight with the recipe, and was shocked to discover that the recipe contained little else besides pineapple, flour, and sugar – a case of simple concoctions tasting better than more complicated ones. the recipe was so simple that the baker was able to give me the recipe off the top of her head, and i quickly wrote it down and vowed to make it again very soon.
flash forward a couple of weeks to my first opportunity to bake for friends in a long time, and it was without hesitation that i decided to make the hawaiian wedding cake for my beach celebration. i made two modifications to the original recipe: 1) i baked them as cupcakes (because the only thing better than cake is a cupcake!), and 2) i also decided made them vegan – see my parenthetical comments for more details.
here's the unfrosted cupcakes (and an unsurprising glimpse of mike on his computer):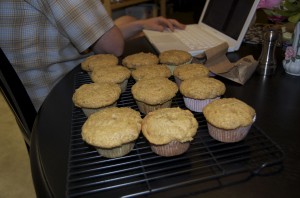 a rare shot of me in my tiny kitchen – this pic was taken unbeknownst to me by one of three good friends who were waiting to help frost the cupcakes (i don't know which of you took it, but thanks b, k, or t – next time could you warn me so i can look like i'm enjoying the process? :) )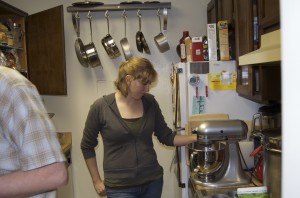 hawaiian wedding cake
yields 12 cupcakes, or 12 pieces of cake
1½c sugar
2c flour (i used whole wheat pastry)
1t baking soda
20oz crushed pineapple, in its own juice
2 eggs (or two mushed bananas)
1c walnuts or pecans (i used pecans)
cream cheese frosting
8oz cream cheese (or tofutti cream cheese)
2T butter (i used earth balance)
1t vanilla
3/4c powdered sugar, or more as needed
______________________________
mix the sugar, flour, and baking soda together with wooden spoon
add the pineapple and its juice, then the eggs and stir til combined
throw in the nuts and give one more quick stir
pour into twelve greased or lined muffin cups or a 9×13 greased baking pan
bake in a 350° oven for 20-30 minutes, or until cake springs back to the touch
beat the cream cheese, butter, vanilla, and powdered sugar together until all ingredients are incorporated while the cake or cupcakes are cooling completely
frost and enjoy!